VIP Day trip to Luxor with flight excursion in detail
We'll pick you up for a VIP day trip to Luxor by plane directly from your hotel door in the morning, where our guide will carry a sign with your name on it in your hand.
When we arrive at our destination during our day trip to Luxor by plane, we will first of all show you the unique Karnak temple, which is certainly one of the most extraordinary temples in the world, as it is still in an incredibly good state , even though it has been going on for thousands of years – so with a bit of imagination, you will easily find yourself back in the past, when the temple stood in all its splendor. You will have some time to walk around where you can visit the entrance area and get an idea of how the huge pylons were built. Walk down through the Sphinx Avenue, where on both sides are rows of krio sphinxes (Sphinx with a rams head), experience hypostylhallen with its more than 100 large but well preserved pillars, admire the hieroglyphs and paintings, visit the Holy Lake, and take a look at the Various chapels, temples and statues. And if you like, you can find the Holy scarab close to the lake, and if you walk around it three times, clockwise – then say the legend that the descendants are going to follow…!
After this fascinating visit, we will enjoy a boat trip across the Nile to the West Bank, where we will eat a delicious lunch at a local restaurant.
When we are all satisfied, we will continue our trip by bus. First we will do stay to take a look at the 3,400 year old Memnon Colossus, the huge statues of Amenhotep III, which once stood guard in front of his, now non-existent, Valley temple, which was once larger than the Karnak temple.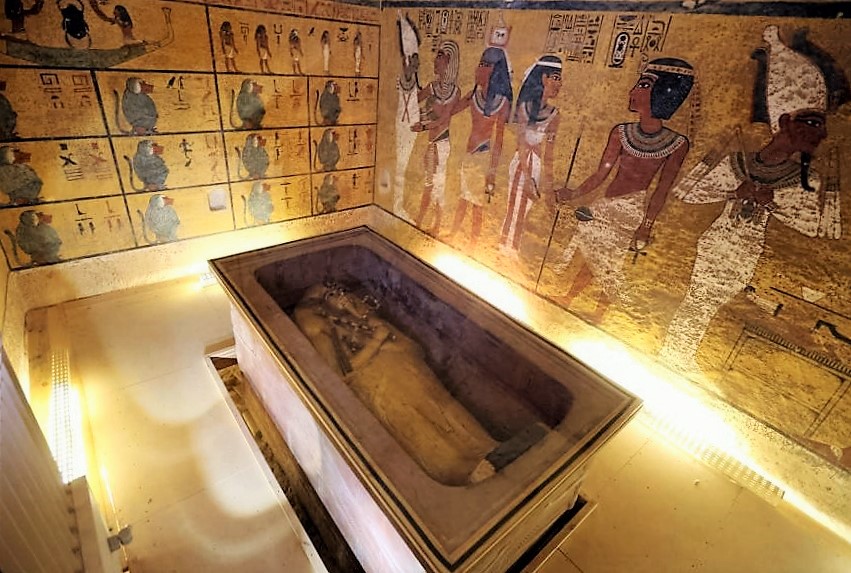 Then it is time to visit the Valley of the Kings, where the ancient Egyptians buried their kings, and officials, for 500 years, and where the mummies of the most famous and glamorous people from the time of the day have been found. Here you can walk down into the tombs of the Egyptian rulers, and experience the well-preserved colorful paintings and stories written with hieroglyphics on the walls.
Our last stop during our day trip to Luxor by plane is unique – namely the visit to Hatshepsuts Temple. She was one of the most fascinating rulers of ancient Egypt, a female pharaoh who proved her ability to reign successfully over an empire, and finally she also created an architecturally extraordinary mortuary temple for herself, with three terraces separated by colonnades, a hypostylhal and many statues, paintings and reliefs.
We will return to the hotel in the evening after a thrilling day trip to Luxor by plane.