This post is also available in:
Dansk
Deutsch
Snorkeling excursion to Mahmya

Snorkeling excursion to Mahmya in detail:
We'll pick you up for our snorkeling excursion to Mahmya directly from your hotel door in the morning, where our tour guide will carry a sign with your name on, by hand. He will drive you to the new Marina in Hurghada, where you will rise aboard the boat to Mahmya, the Paradisaical Island. If you're lucky you can see Dolphins playing in the water, or even escorting your boat during the snorkeling excursion to Mahmya
When you arrive at the beach on Mahmya, you are awarded a sun bed under a parasol and it is now time to relax! During the snorkeling excursion to Mahmya, just enjoy the silence, the sound of the quiet lapping of the waves, the bird whistling and the wind in the palms and put the world behind you. You can also just take your mask and your snorkel on, jump into the water and experience the coral reefs close to the shore, and meet Nemo and all his friends.
If you want to experience more of the Red Sea marine life during the snorkeling excursion to Mahmya, we will sail further out by boat to one of the region's best snorkeling sites where you will experience beautiful corals, myriad exotic fish, and some other underwater animals and plants.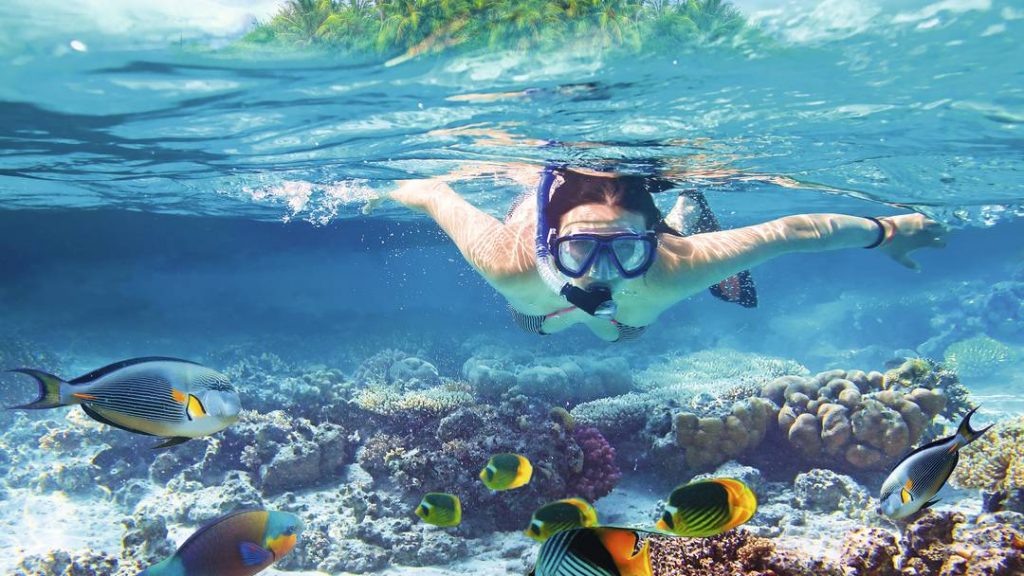 When you come back to the beach, you will eat a delicious buffet in the island's restaurant, and afterwards you can enjoy sunbathing or swimming. If you like, you can hire a so-called SEA-SPI; Which is an environmentally friendly motorized vessel, either for one or two people (twin-model), which allows you to lie and relax on the water, while observing the underwater world, through its glass bottom.
We will return to the hotel late Afternoon.
Nb! Children up to 3 years-free; Children up to 12 years 50 % Discount
Price Includes:
Transport from/to your hotel in first class vehicles with A/C
Boat transportation to Mahmya and back
Sun bed and Parasol
Snorkeling trip by boat to a coral reef near the Mahmyas coast
Snorkeling equipment
Guide assistance
Lunch in the island's Restaurant (buffet)
Price does not include:
Tips for drivers and guides
Personal effects, meals, beverages or services not mentioned in the
Visa
Additional activities to be hired on the island:
Rent of SEA-SPI
Pedicures in the small Garra Rufa fish